I made the most out of my Sunday by not doing any housework. O.k. I did a little, but I did not touch the mound of clean laundry that I need to fold and now need to iron because of abandoning the job.
Anyway, I thought you might like to know about this giveaway at
Be Thou a Knight
. They host giveaways and in return you are able helping them raise money for a baby fund.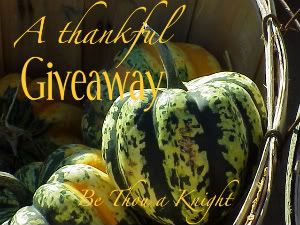 This first GIVEAWAY of November will end on Friday, November 6, 2009.
It's an Apple 4gb iPod Shuffle and a accessory kit....how cool is that.
Click here to check it out.....